Triax and test equipment "accessories"
In my last post on the 6430, I realized that the triax-to-BNC converter was not hooked up properly for my application. Looking for triax online I inevitably ended up at Pomona Electronics, who also made my BNC to grabber cable, which I purchased for $13.99 at Fry's. Their Model 4725 & 5342 Triaxial BNC Male 2 & 3 Lug To Insulated Alligators Cable Assembly looks quite suspiciously like the corresponding Keithley part. Now where can I buy one? Whoa, it's $112.38 at Newark InOne. Per the 6430 data sheet, I would want the 3-lug part. They also have a BNC-to-triax connector, the 5300, but it is guard to shield.
It turns out that the 6430 data sheet includes a big list of accessories you can buy from Keithley. They offer the Model 7078-TRX-BNC Adapter, which is a 3-slot male triax to female BNC adapter used to connect a BNC cable to the triax input of the 6430. Now, unlike the Model 237-BNC-TRX Adapter (male BNC to 3-lug female triax), there is no mention that the guard is disconnected, so there is a chance that this is what we already have.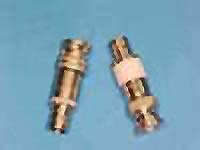 I found exactly what I was looking for at Probing Solutions - $166 for this tiny part. It's the one on the left, 102: Adapter, Male Triax/BNC Jack, Shield to Shield, not, as we have now, the Guard to Shield.
Posted by torque at April 15, 2004 5:49 PM